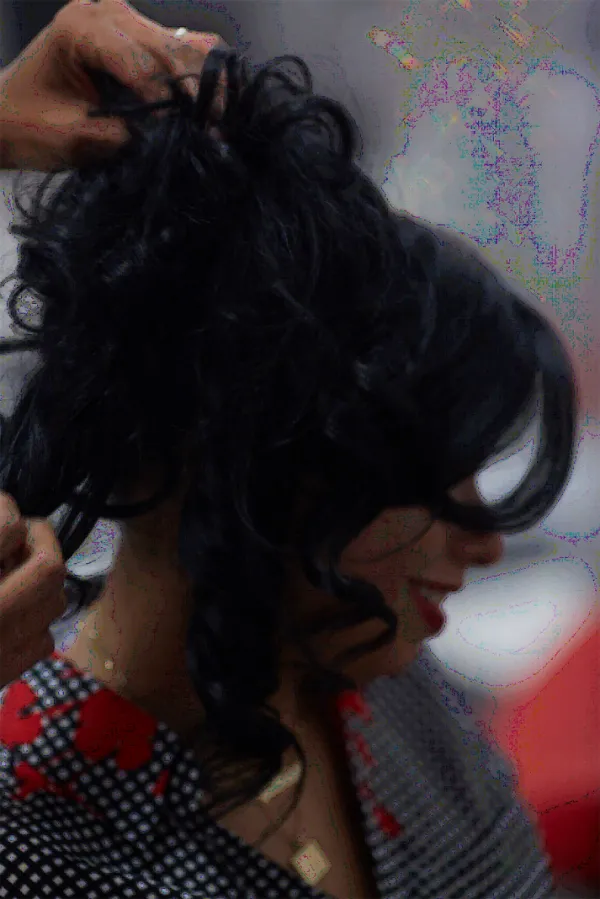 At Salon 809, we love your curls, but we completely understand the desire for a smooth and sleek look from time to time. That's why we offer the Dominican Blowout. It's a great way to enjoy that silky straight and utterly smooth look without using chemicals for a natural look.
As the name suggests, the Dominican Blowout was created in the Dominican Republic. Techniques for hair straightening have been around since the 1890s, though they have certainly been perfected over time. What we love about the Dominican Blowout is that it doesn't ruin your natural curls and allows you to have a new look even with biracial or extremely curly hair.
Why we love it:
It's ideal for all weather to fight the frizz and keep a high-shine style without high-maintenance. Just wrap it at night, then brush and go in the morning!
What is the Dominican Blowout and How Does It Work?
This special blowout involves washing your hair, treating it, rolling it, and blowing it out, with the option to flat-iron your hair. The stylists at Salon 809 have been doing this technique since a very early age, so we're used to all types of hair. Believe us, we've seen some stubborn hair in our day and we know just how to tame it.
We tend to use roller sets and then blowout your hair, but if your hair just doesn't want to cooperate, we can blow dry it directly without rollers to achieve gorgeously smooth results. This is also how we can tame short tresses and coax them into supple smoothness.
While it is better for your hair than chemicals, there is a slight chance you could damage your natural hair due to the high heat. Your curl pattern may loosen over time if you are a regular. For women who don't like their curls, this is a moot point.
Essentially, any time you apply heat to hair, it can lead to damage, though we take great steps to use quality protective products to keep your hair safe and healthy. At home, you should take care of your hair too from the inside out to ensure it keeps up a healthy appearance and avoid using heat between salon visits. Use deep conditioning on your hair prior to your Dominican Blowout. More conditioning never hurts!
The Dominican Blowout will leave your natural hair with a silky-smooth appearance. It will only last until the next time you wash it so if you want it to last, you should avoid wetting your hair or getting sweaty. How porous your hair is makes a difference on how long you'll want to go. Most of our clients come in every 2 weeks.
Watch Out for Water!
So you know you shouldn't wash your hair after you've had your Dominican Blowout. But there are other things you'll need to stay vigilant about if you want it to last. For one, always carry a cover for your hair in case of rain. For another, when you shower or get sweaty from your workouts, this too could ruin your look. Keep your hair wrapped tightly and covered to avoid undoing your Dominican Blowout too soon.
Thinking about a Dominican Blowout? Come see us at Salon 809 and we'll advise you on whether or not this look will work for you !